Regardless of how good our event teams are, there's always room for improvement. If only we had more time, better tools and more resources, we could get even more done and provide an even better experience for our event participants.
Imagine what your team could accomplish, if you could give them a cost effective, easy to manage resource that's available 24x7 to:
address participants' frequently asked questions,
triage complex questions, and;
alert the team of issues and special requests.
That resource could very well be an event chatbot and here's why.
Chatbots are software programs that can include Artificial Intelligence (AI) components to interact with people over messaging apps like SMS, iMessage, Facebook Messenger, Web Chat, etc.
Early uses for today's chatbots have typically been for practical purposes such as customer service or information acquisition. Why? Because in many instances customers no longer need or want to speak to a human for simple things like checking store hours or confirming account balances. Today, companies can deliver high quality customer service economically by outsourcing basic customer service questions to a chatbot.
Now let's relate this to events. Our teams work really hard to ensure participants get the most out of their event experience. This of course means they have to deliver high quality customer service to be successful.
An event chatbot can contribute to a successful event experience by helping your team work smarter, not harder while accomplishing even more.
Here's how:
Easy to Find and Use
Participants don't have to call, email or track your team down. Chatbots live on messaging apps including web chat. Participants can use their favorite messaging app or your event website to connect with your team's event chatbot. Text messaging is familiar and easy for participants to use; there's no app to download and nothing new to learn.
Always Available
Would you like to expand your team's availability but face budget and staffing constraints? Good news! Chatbots are economical. They can work 24 hours a day, 7 days a week, 365 days a year. And, they are always on time, pleasant and never take a lunch break or a personal day!
Ability to Scale
Do you find it challenging to scale your team during peak times? Or do you have an opportunity to expand or grow your event business but can't quite support it? Chatbots facilitate scaling by augmenting your team. Your event chatbot can serve as your team's first point of contact to handle basic questions. If the chatbot is unable to address the participant's need, it can invite a human member of the event team to the conversation.
Adding a chatbot to your team means more participants served! And with the basic questions handled, your team is freed up to address more complex questions and issues.
Consistent, High Quality Service
Your team likely answers the same questions over and over again. When does registration open? Can I get a gluten-free meal? What are the shipping options for booth displays? When do I have to submit my presentation? Chatbots to the rescue! An event chatbot is well suited for answering your participants' frequently asked questions and they never tire of them, so each and every one of your participants gets the same high quality service. And, your team gets more time to work on more compelling, higher value tasks and projects.
Meeting Unmet Needs
How many unasked questions do your event participants have? These are the questions that aren't getting asked because the friction is too high to ask the question and get an answer. With an event chatbot an answer is just a text away. Now that's low friction! And your team will now be aware of and can address needs that you didn't even know existed.
Remind and Alert
Need a way to keep your participants in the know before, during or after your event? An event chatbot can be used to solve this pain point for your team by delivering important and timely reminders and alerts to participants. Both scheduled and ad-hoc notifications can be accommodated.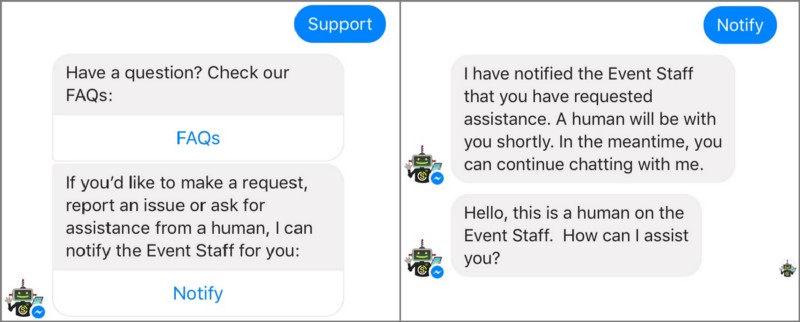 Participants can also use your event chatbot to submit requests for human assistance, like I lost my badge, the room's too hot, we're out of ice water, etc. The chatbot can alert the event team and the need can be addressed with minimal disruption.
Now that you know more about how an event chatbot can be used, imagine what your team could accomplish if their +1 were a chatbot!