We at 42Chat are so excited to attend the annual NAACO conference every-year and this year in Vancouver is no exception! We always jump at the opportunity to learn from peers and colleagues from across the continent, to share best practices, and build lasting personal relationships
Did you know there's a specific conversational chatbot to cater to all your commencement needs. That's why we want to share our GradBot best practices with you. Read on to learn more.
Reduce Stress for Graduates, Guests and Staff to Make Commencement Unforgettable
With a bot that takes less than 3 seconds to respond all your commencement attendees can ask…
Are tickets required?

Will there be a rehearsal?

How do I order my cap and gown?

Where do I go for the processional line-up?
and get an answer with an astonishing 95%+ accuracy rate. GradBot helps graduates get the answers they need to their specific questions instantly over text, meaning all attendees will arrive and leave stress-free.
When Arizona State University launched a GradBot for their commencement, their bot Tassel was able to reach over 10,096 graduates and guests. Tassel sent and received more than 230,087 text messages and provided more than 2,928 hours of real-time support from October 10th to December 12th, attendees could get personalized answers without finding a staff-member. A bot can be your 24/7/365 assistant, helping reduce pressure for all staff and attendees.
Deliver a Personalized Commencement Experience, Driving Greater Brand Engagement and Connection
You can personalize the notifications your guests receive. By creating the only 1:1 communication channel you can create targeted calls to action that will be valuable to your attendees.
You can direct them towards the merch table, send specific parking instructions, and send them the link for their graduation photographs. This will prove to your attendees the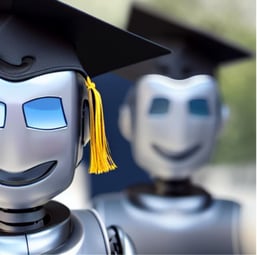 integrity of your brand so they'll feel connected to their school. As well, guests and parents can opt-in to receiving texts from your bot—meaning parents and graduates can stay in the loop without having to go through their graduate
GradBot can send push notifications for just-in-time commencement announcements for graduates and guests alike—including emergency notifications if needed. You never know when any kind of crisis can occur. Have the insurance policy of a direct communication channel so you can get in touch with your attendees if and when you need to.
Stay Download-Free
No apps to download, passwords to remember, event emails to find in your inbox or endless searching for answers. Simply text GradBot and get an instant response.
Universities are turning to text messages to be able to get in touch with students on a platform with a 98%+ read rate. By using a communication channel your student body already uses, you'll know your notifications will be read and everybody's questions answered.
One Venue or Many
GradBot cananswer graduate or guest questions, whether you have one commencement ceremony in a single venue or multiple ceremonies across multiple locations.
No matter how your ceremony functions, a GradBot simplifies the process.
We'll see you at NAACO 2023!

Want to book a time to chat with us in advance? Click the button below to plan a meeting.