We work with tons of creative, hard-working event organizers like you who lead the charge to dream up great events and come to the rescue when the train starts to teeter off the rails. To become the best-of-the-best, you're always looking for ways to up your game, be more efficient, or deliver a better experience for your guests.
As the creator and world leader in conversational A.I. chatbots designed specifically for events (EventBots), we've learned a few things and love sharing event planning tips. Lately, we've been asked a lot about audience engagement and how to foster stronger communities around events. As a result, we've developed a framework that, in a subtle way, we think will help you talk to your audience more effectively. We call it the Engagement Journey.
The Engagement Journey Lasts All Year Long
The biggest thing to realize about the Engagement Journey is that it spans the entire year, from your annual event this year to the same event next year.
It's common – and totally understandable – for event organizers to primarily focus their communications efforts on immediately before, during, and immediately after the event. That's when your audience is paying attention and onsite and when their core impressions of the event are formed. But that's leaving 48+ weeks of post event audience engagement off the table. Think of how much deeper your relationship with them could be if you were engaging with them all year.
The Engagement Journey has three phases: Marketing, Registration, and Event. This timeline shows when those phases happen. The exact weeks are guidelines that might look different in your case.
Have Different Conversations Based on Where Your Guests Are in the Journey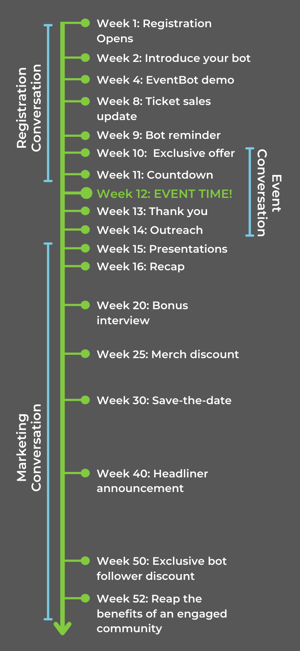 The reason for breaking down the Engagement Journey in this way is to highlight that you should be having conversations with your attendees in each phase, and the conversations in each phase should align with a guest's headspace at the time:
The Registration Conversation is the time period between when registration opens and when the event begins. This is when you can build hype and excitement for your event, sell tickets, and bring awareness to your community about how to use your EventBot.
The Event Conversation takes place two weeks before your event and up to two weeks after. This is when the conversation will be most active as attendees seek out "know before you go" information and ask lots of questions during the event. It's also when you'll be pushing out last-minute and emergency notifications and post-event recaps and seeking feedback.
The Marketing Conversation is the big middle that most organizers ignore. It stretches from the post-event period all the way to next year's Registration Conversation. It's the perfect time for you to engage select members of the community for deep-dive feedback, share event presentations, and build enthusiasm for next year's registration opening.
Our EventBots can facilitate each of these conversations: from answering questions about how to register to hosting scavenger hunts that drive traffic to your exhibitors to dripping content that keeps them interested and buying tickets next year. This is what makes the Engagement Journey so powerful: it can actually have a big impact on your bottom line.
We wrote an e-Book that deep-dives into each conversation and shows how a chatbot can increase engagement while making life easier for you as an event organizer. We might be biased, but we think it's essential reading!
Want More Event Planning Tips? Download the How to Engage Your Audience With a Chatbot e-Book.