FOR IMMEDIATE RELEASE
May 13, 2019
Las Vegas, NV — The 2019 Experiential Marketing Summit is the ultimate training conference on the emerging discipline of experiential marketing, drawing from industry leaders including Pepsi, Uber, General Mills, Under Armour, Samsung, and General Motors. This year, EMS is teaming up with EventBots to educate and demonstrate how AI Chatbot technology can further business marketing efforts, drive financial growth, and help brands achieve measurable results.
EventBots is the official 2019 EMS EventBot Activation sponsor. "One of the primary advantages of using chatbot technology to facilitate events is their speed and expediency. Text messages are simply much quicker, easier, and more often read than communication by email, social media, or any other channel," says Chuck Elias, EventBots CEO.
The AI chatbot for the EMS event is named Jeffrey, accessible by texting "EMS" to 25525.
"We're thrilled to deploy EventBots' chatbot at EMS this year," said Jeff Fortmann, Event Marketer business director. "I know our attendees will benefit from having artificial intelligence-assisted event support this year. It's exciting!"
"The bottom line is that a chatbot is available 24/7 and delivers answers to attendees with a Correct Response Rate of 95% or higher, opening the door to more meaningful engagement with clients and prospects," Elias added.
Elias will present a TechTalk titled, "The Power Of AI Chat: Open An Amazing Marketing Channel." The session will demonstrate how innovative companies are integrating chatbots in multiple channels (SMS, on their websites, even in existing apps) and leveraging the power of AI to grow their business.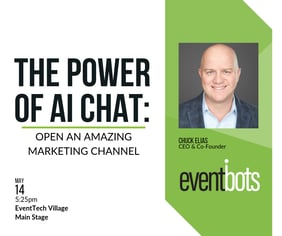 The presentation will take place May 14th 5:25-5:35 p.m. on the EventTech Village stage in the exhibit hall. EventBots is a Presenting Sponsor and will be located in booth 626. EventBots is also part of the TechTour May 15th at 6:15 p.m.
The 2019 Experiential Marketing Summit will be held May 14-16 at Caesars Place, Las Vegas, Nevada. For additional information about Experiential Marketing Summit 2019 visit, https://emsummit.eventmarketer.com/program/ or connect by email at ems@eventmarketer.com or phone, 1-800-777-5006. For questions, ask the Jeffery the AI Chatbot by texting "EMS" to 25525 for the duration of the event.
About the Experiential Marketing Summit
The Experiential Marketing Summit is the world's leading experiential marketing training conference. EMS hosts 1,800 marketers from around the world. Emerging trends, best practices, and industry case studies are shared, dissected, and analyzed. Powered by a speaking faculty from the world's leading brands–Uber, General Mills, Under Armour, Samsung, General Motors and dozens more–the Summit delivers the most mission-critical trends and best practices available on face-to-face marketing. Hand-picked design experts, strategy chiefs, and bestselling authors round out the panel of thought leaders. For more information, visit https://emsummit.eventmarketer.com/.
About EventBots
EventBots (by 42Chat) is a pioneer at the leading edge of AI chatbot technology for customer support and the global leader for EventBots. Their award-winning chatbot solutions have been employed in events ranging from 10 to 100,000+ attendees and can be used for any type of meeting, conference, festival, or gathering. They have won more than a dozen industry awards including MPI WEC Tech Showcase 2018, National Sports Forum Tech Tank 2018, IMEX America #IMEXpitch 2017, SISO Innovation Battlefield 2017 and IBTM World Technology Watch 2017 and were named to CIO Review's 10 Most Promising Conversational Platform Solution Providers list for 2018. Learn more at www.eventbots.com.