Chatbot Benefits and Potential Pitfalls
Chatbots enable today's marketers to do something that, in the past, they'd only dreamed was possible: personalize content delivery and have helpful and meaningful conversations with all their customers at the same time.
And while the potential benefits are clear:
More cost-effective customer service (easy to scale)

Faster response times

Easier business transactions

More convenient ways to address prospects and customers in their preferred medium
The potential pitfalls are also clear:
Privacy breaches

Security flops
Recently we teamed up with Kristina Podnar, Digital Governance Advisor, to co-author a post to help marketers learn more about what chatbots are, how they're changing conversations between companies and their customers, and what opportunities (and risks) chatbots present for marketers. Hopefully, this post will help companies experimenting with chatbots to capitalize on the benefits while avoiding the pitfalls. We've summarized some of the key points below, but you can read the entire post here.
Opportunity:
A chatbot is essentially a software system that automates the task of talking with people, (customers, clients, event attendees), using the internet or text messaging. In much the same way that software programs (Microsoft Word, Excel, and Photoshop) live on your laptop and that apps (Instagram, Pokemon Go, and Google Maps) live on your smartphone, chatbots live on messaging apps. For example, chatbots might live on Facebook Messenger, SMS text messaging, Kik, or WhatsApp.
The rise in popularity of messaging apps illustrates the opportunities for brands to use chatbots to increase their customer engagement at scale.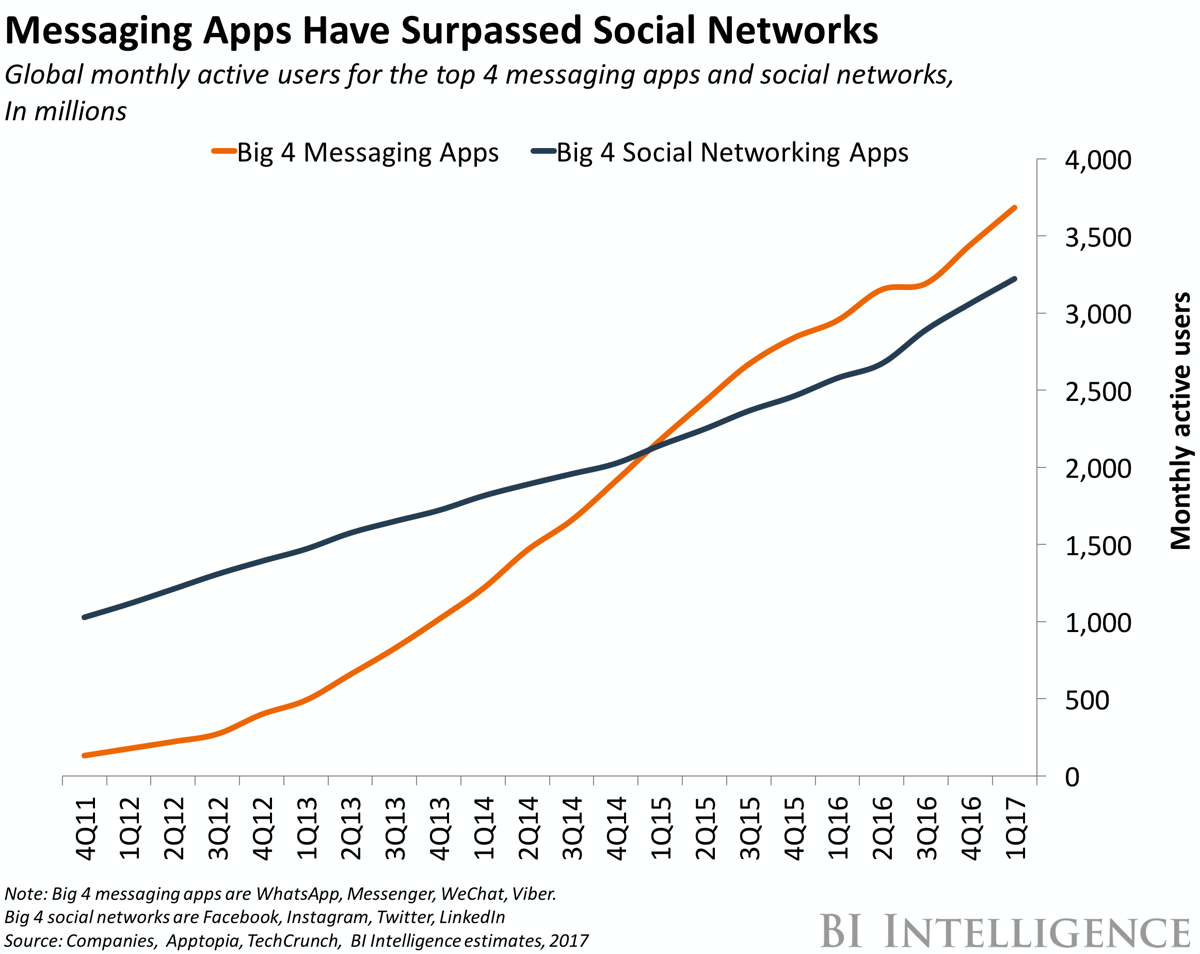 Consumers are spending more time on messaging apps and this engagement is expected to keep growing. Business Insider recently reported the astronomical growth of messaging apps, "The combined total monthly active user (MAU) count of the top 4 messaging apps has grown to 4.1 billion in 2018, with the top three messaging apps touting user bases of 1 billion or more."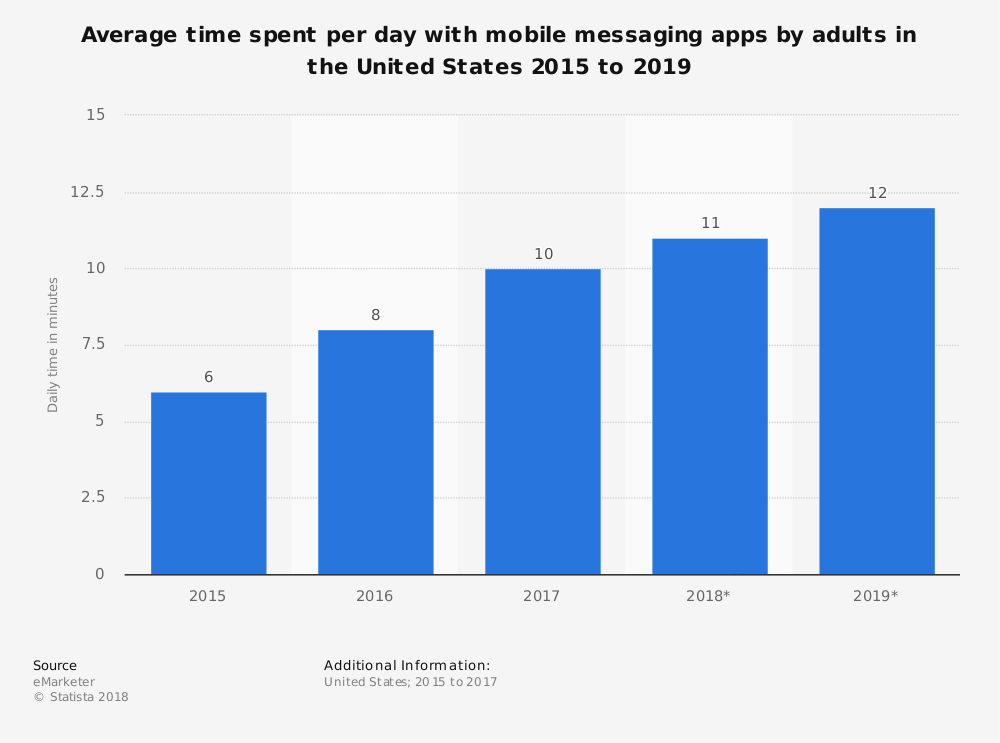 Benefits:
Chatbots allow you to be where your customers are already spending their time: messaging apps.

Chatbots combine the ease of texting with the intelligence of embedded software programs, which allows them to carry out any number of routine tasks. Here are a few examples: automating subscription content (like weather and traffic updates), customizing communications (like receipts, shipping notifications, and live automated messages), or sending out event information (like agendas, ID badges, and parking directions).

Chatbots open new opportunities to engage your customers with content – at scale and with ease.
Potential Pitfalls:
Branding – Developing your chatbot appropriately so that it represents your brand can be a challenge. Some of the things to think about include: language sensitivity, tone and voice, and local customs based on your unique customer culture.

Data localization and governance – The following questions are important to consider as you get started: In what country does your organization store information gathered from customers via a chatbot? How does your organization structure chatbot and user data? Is that data secured so as to comply with relevant regulations such as the Health Insurance Portability and Accountability Act? How is that data stored and transferred across the country and regional borders?

Privacy – This is a hot topic these days. When building your bot, be sure to consider the following carefully: What information does your chatbot ask for and collect? Does your company use contextual data with explicit permission to market or sell?

Children's online protection – Again, this is an area of increased attention. Depending on your industry, you may need to ask: Does your chatbot recognize users under the age of 13 and adjust or deny interactions with them based on legal requirements in the relevant countries?
Good news: You can avoid these pitfalls by creating conversational-commerce policies.
To develop new policies, start by addressing these questions:
Accountability: Who within the organization is accountable for chatbot assets? This person should coordinate with the privacy, risk, and compliance individuals in the organization to identify appropriate policies and governing mechanisms.

Priority: Which top risks should be addressed to protect the brand and reputation of the organization?

Education: Where can people in your organization find these policies so that they can follow them? Is there an easily accessible place where agencies and vendors who support your chatbot creation can find your requirements and documentation?

Compliance: What is necessary to support your policies and ensure that chatbots are created, deployed, and managed in controlled ways that will not break laws or compromise your reputation?
How to get started
This is an exciting time to be in tech. Chatbots are gaining momentum. And soon, they'll be just another form of digital communication. How might your company engage people in this new automated (read: simple, streamlined, and cost-effective) way? Where do you start?
Here's where we recommend you start. Consider the following questions:
Who are your target customers?

What messaging apps do they use?

What simple, low-risk use cases or scenarios might you experiment with?

Where are your customers or prospects located, and what laws and regulations related to digital marketing apply in those regions or countries?

Which credible bot-development and maintenance resources might you reach out to (Hint: you might start with us! Demo one of our chatbots here.)?

What steps might you take to avoid blunders and privacy or security flops?
If you're ready to get started, our chatbot experts can help. Schedule a call and learn how your brand can start taking advantage of this opportunity to engage your customers in a more impactful way.